Web Packages
Everything we do is based on helping the small business owner. This means keeping things simple and affordable. Hence, we have created three all-inclusive packages for you to consider. Of course if you need more or less help, let us know. We are flexible.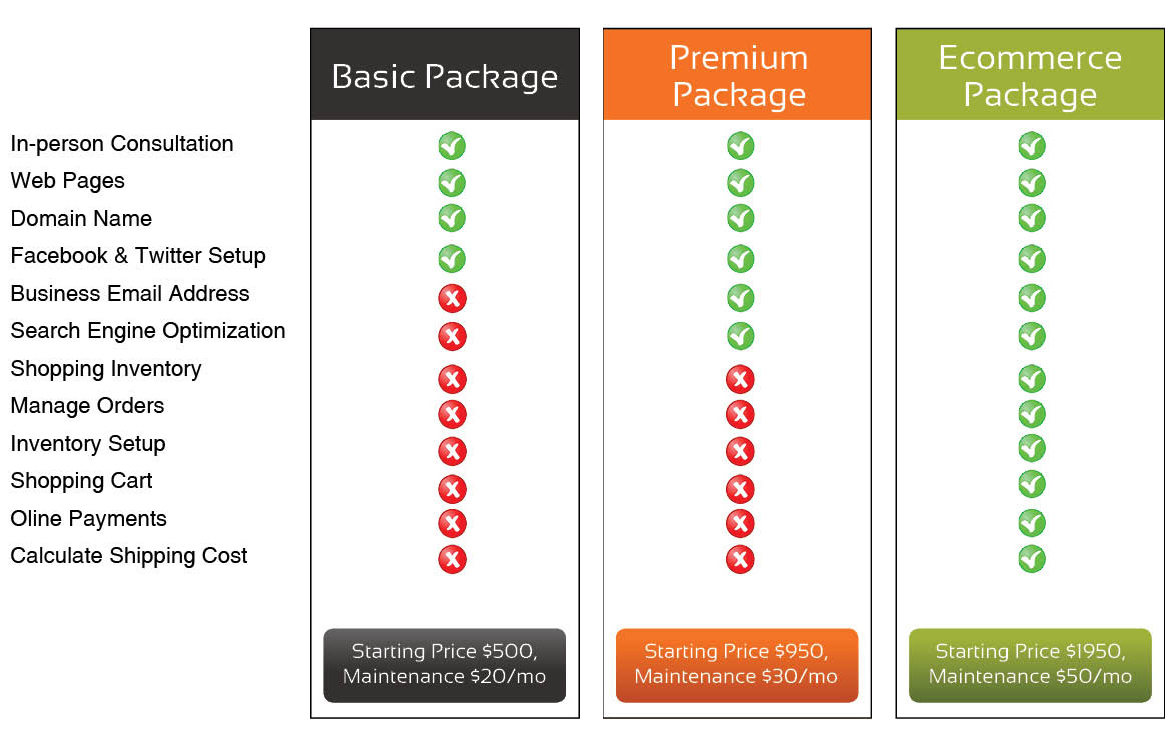 Basic Package
This Basic Package is suitable for most businesses. It provides you with all the essentials you need such as Home, About Us, Contact Us, and Location pages. It also has enough room for you to add your menu or a picture portfolio of your work. The plan includes in-person consultation, web design & build up to 15 pages, domain name, business email address, and site launch.
Premium Package
For business owners looking for a more complete online experience, this is the right package for you. The Premium Package provides all the help in the Basic Plan, but also includes additional features. You will get everything in the Basic, plus 5 more pages of web design & build for a total of 20. You also get help with Search Engine Optimization (SEO), Facebook & Twitter design and set-up. If you are looking to sell items online, this is the package for you. We provide a complete e-commerce solution. Your website will allow you to manage orders, accept payments, calculate shipping cost, etc. Most importantly, we will build an online storefront that will be easy for you to manage yourself.
Ecommerce Package
The Ecommerce Package includes everything from the Premium, plus, you get up to 50 pages of web design & build, and help organizing images, descriptions, and prices for your items. Keep in mind; all of our websites are designed to be responsive. Responsive web design is an approach to web design aimed at creating sites that provide easy reading and navigation across a wide range of devices - from desktop computer monitors to mobile phones.
Other Services
Hometown OC is a full service marketing company. For more information about all our services, please visit our website HometownOCBusiness.com.